All the Amenities You Need
Lake Chalet Campground & Motel is nestled on a 6 acre private lake with a beach and flowing brook; both stocked for your fishing pleasure.
Lake Chalet provides all the amenities you need to make your stay a relaxing and rejuvenating one. We offer hot showers in our bathhouse. Our on-site laundromat will keep the time you spend on this camping chore to a minimum.
Our activities include outdoor fun with horseshoes, volleyball, basketball, swimming, fishing, badminton and a playground.
Get out on the water with our rental paddle boat, canoe, and kayaks.
Our store stocks ice cream, snacks, ice, firewood, gifts, swimming and fishing supplies, camping supplies and more!
Our Amenities
Hot Showers
On-site Laundromat
Swimming / Fishing
Playground
Picnic Areas
Volleyball, Basketball
Paddle Boats
Canoes & Kayaks
Camp Store
Ice Cream / Snacks
Large Pavillion
Waterfront Gazebo
Motel Efficiencies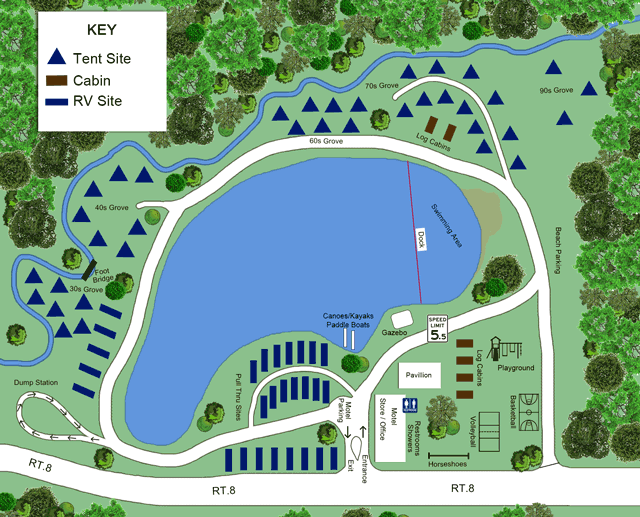 Our Campsite Map
Explore our campground with an interactive map. We have many great amenities such as a camp store with ice cream, a game room, a 6-acre private lake, rentals, picnic tables, fire circles, and grills. It also includes basic amenities like restrooms with hot showers and laundry facilities. Visitors can also enjoy activities such as badminton, basketball, swimming, paddle boating, video games, hiking, biking, fishing, kayaking, and canoeing.