- about us -
It's always a relaxing day at the Chalet!
Lake Chalet
Lake Chalet Campground & Motel is nestled on a 6 acre private lake with a beach and flowing brook. We offer 67 campsites, 6 cabins, 6 motel rooms, RV rentals and a great outdoor event venue for family reunions, weddings and any big or small gathering.
It was the best family camping trip ever! We had a great time here and the staff were awesome! We'll be back!
Have been coming here for 35 years. Friendly, clean environment. Many sites to choose from, tent sites large and accommodating. Beautiful lake and beach for swimming. Look forward to camping here every year.
The owners are very friendly and what a beautiful place to stay. Stayed for the weekend and loved it! Would definitely visit again. The lake is beautiful and the grounds are very clean.
- Meet the Owners -
Ron and Kirstine Wallenta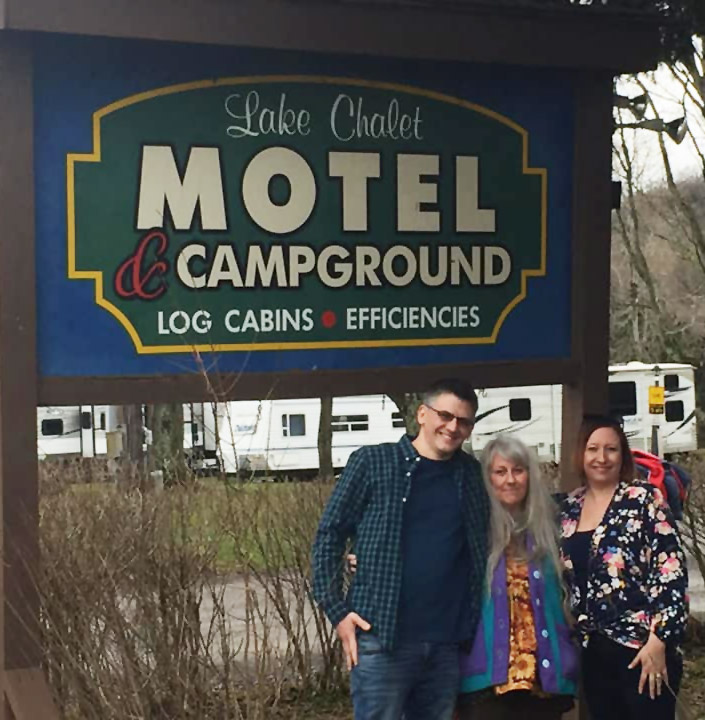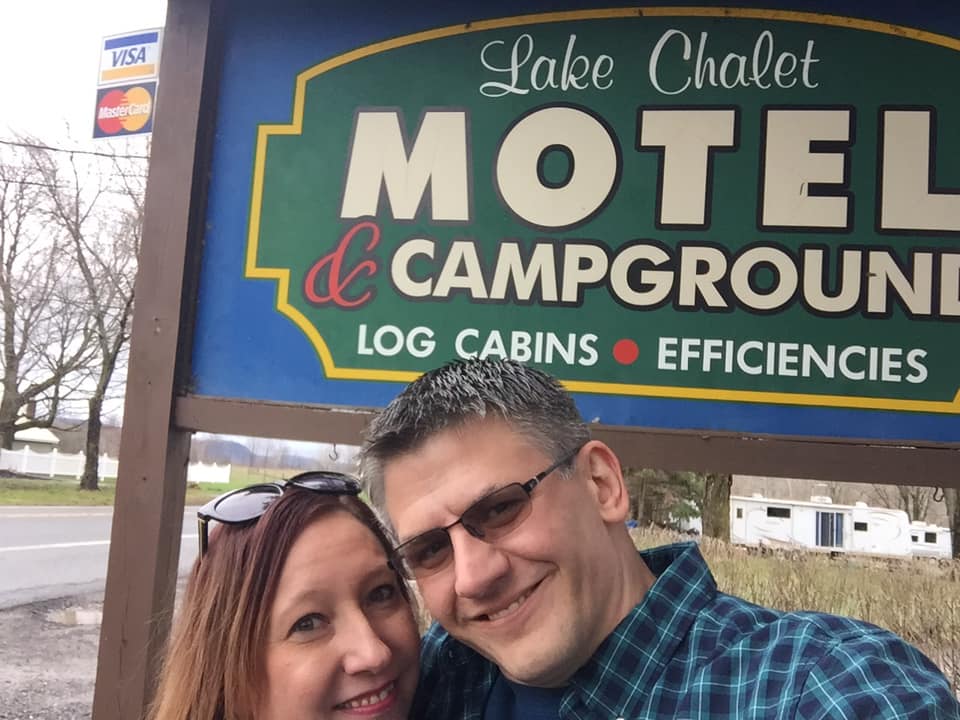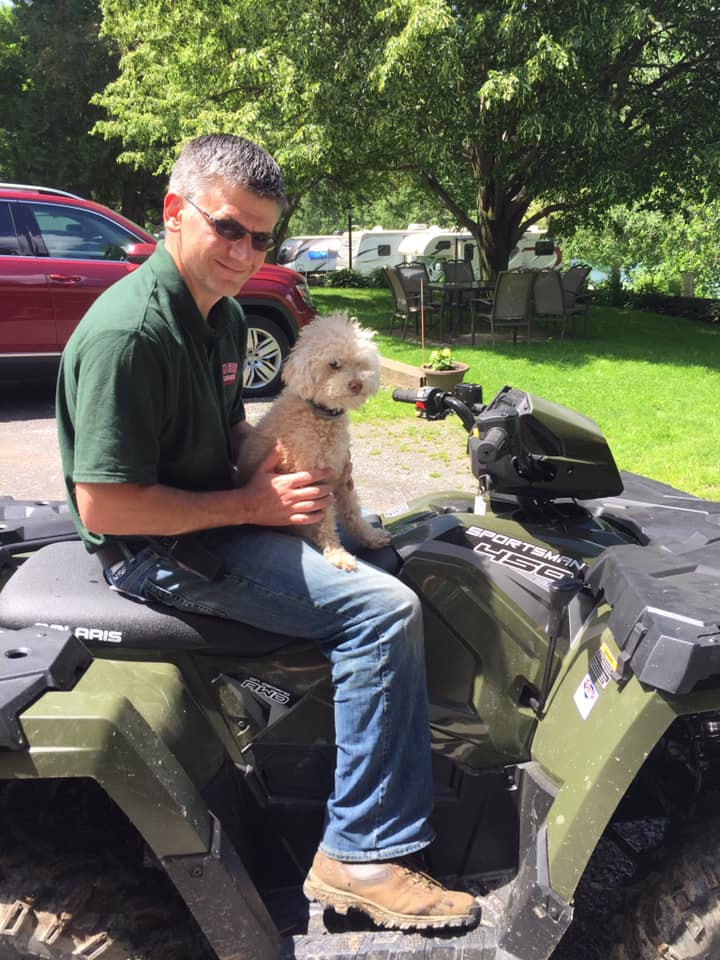 One late night in August of 2016, our journey together began to take a new direction. From just that point to this one, it has been an exciting trip and we are just getting started!
After hanging up the phone working through my umpteenth issue of the day with a technician in Alaska at 1AM, having started my day the same way around 6AM with an issue in Ohio, all while knowing I would be doing the same the next day; I had to do something. Something different. Something very different. Something dare I say, out of the box… I didn't need a new position or new customers, I needed a new reason to get out of bed. Speaking of bed, it was 2AM by that point and 6AM was coming fast!
The next day, it was on my mind all day. What change to make? Why that change? How do we make the change? I kept coming back to running a business. But what type of business? It has to be something we are passionate about, something we would enjoy doing even if we weren't getting paid to do it, but of course in order to keep doing it it has to make some money! All day, ideas swirled in my head and as soon as you got home we had a talk. The talk led to a list of possible businesses. The list wasn't inspiring and led to more talk. Then it happened. How about a campground?
I couldn't accurately explain the feeling that came over me when I heard the question, but to sum it up, it was an immediate feeling of this is right and meant to be. I knew it was the right idea so much I already felt like a park owner. I hadn't even begun to look into the feasibility of owning a park, the profitability, the accessibility, but I tell you I felt like a park owner already! Both of us jumped in completely, registering with brokers, looking at parks online, reading up on how to run a park, following camping groups for ideas, and it was about all we talked about for months. We thought about selling everything, living on the road, going from one camp to another, researching other parks, and staying at parks for sale to see if we wanted to purchase them. We decided that wherever we ended up we should see if my mother would like to join us living on the campground. Helping out around the park, spending time with us, and of course making zillions of crafts to sell in the camp store! I did not even finish asking her the question before she said yes (I know, shocking). We had our plan, it was time to put it into action.
We just decided one day, let's go take a look at a park. It was in NH, private beach on a lake with Mt Washington in the background. If others reading this don't know me well enough, that is where my father and I spent our camping trips when I was growing up, where my father and other family members are laid to rest, and where I plan on at least part of me spending eternity. It was gorgeous and there we were looking at our first park! We couldn't have been more excited! We took a tour, the owners were very nice, and overall it was very manageable. During the ride home, the euphoria cloud started to fade and we discussed the pros vs cons. A main route running through the middle of the park, very small, and the owner residence was not suitable for winter living. As much as we loved the area, the cons well outweighed the pros and before we made it home we had decided we needed to see more. This proved to be the case for every park we went to visit. The "no water feature" park in NY, the "entirely too remote" park in ME, the "NY version of the NH park" on Lake Ontario, and let's not forget the "deliverance" park in NY. All of them having quite amazing features, but also having something telling us it wasn't the right park. On top of this, we had decided we needed to modify our plan and forego the RV travel so we could get into a park as quickly as possible. We targeted 2020-2021 to be "the right time" for a number of reasons. Now we have seen several parks, have a good idea of what is available, and a timeline to work towards.
There was one park though. One that checked every box. Land, check. Water feature, check. Cabins, check. Running business, check. Well maintained, check. Covered pavilion for gatherings, check. Ample and appropriate owner residence, check. Camp store, check. 3 hours from Connecticut, check. Space for 9 holes of disc golf, check. 6 room motel, check?? We had no idea that a motel was on the list but it sure grew on us! The owners were motivated to sell quickly and even though we were motivated to buy, the price tag was prohibitive. At that moment we thought we were torturing ourselves looking at a park outside of our price range. Why even do that to ourselves? We continued looking and nothing came close to comparing. We kept trying to run the numbers in different ways and just didn't see how we could make it work. That was until that fateful phone call informing us first of a price reduction… Tires spin, smoke burns, ideas hatched. Even though we are still quite a ways off, why not just offer what we can and see what happens?
As of 4:58pm on April 15, 2019, we are the proud new owners of Lake Chalet Motel and Campground! Living the dream in Bridgewater New York!